Windows 11 Build 22489 is rolling out with Microsoft account integration in the system settings. Like the previous updates in the Dev Channel, this preview build is also from the active development branch called "Nickel" and it comes with several minor improvements, but there are no new exciting features.
Today's preview update is titled "Windows 11 Insider Preview 22489 (rs_prerelease)" and it can be officially installed on devices with TPM 2.0 and supported processors. If you wish to install builds from the Dev Channel on an unsupported device, you can try third-party open-source tools like InsiderOffline.
Windows 11 Dev Channel requirements apply to virtual machines as well. In other words, if you don't turn on the necessary features (TPM, Secure Boot) in your virtual machine, you won't be able to install the update. In case you've VMWare Workstation, edit VM settings and enable encryption, add a TPM module and turn on secure boot.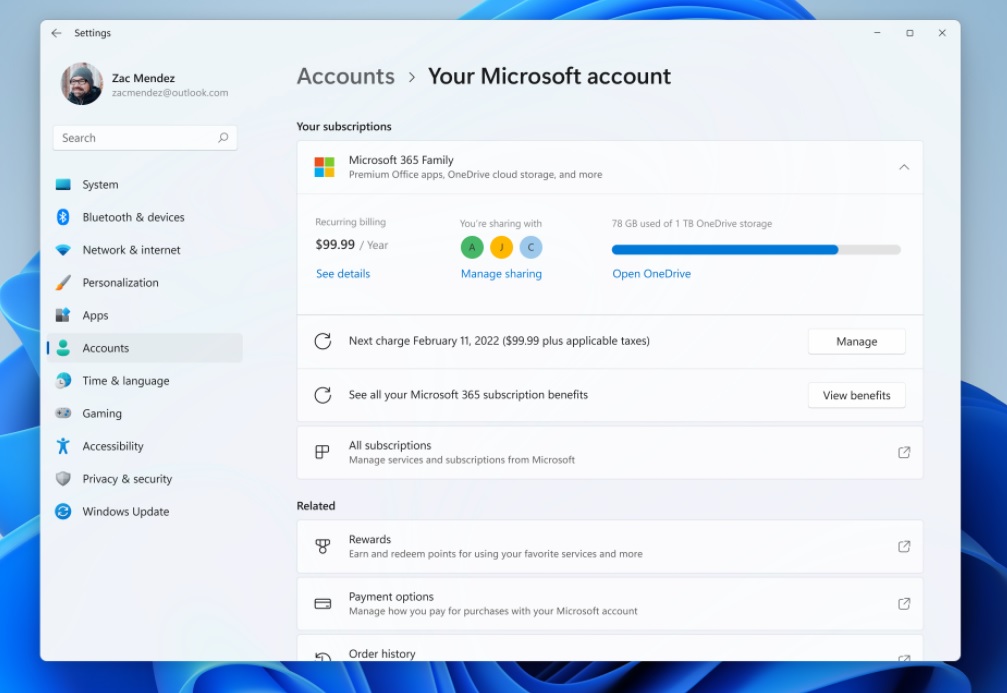 Windows 11 Build 22489 comes with a new page to manage your Microsoft account from the Settings app. This would be a new entry point for the Microsoft account and it can be accessed by heading to Settings > Account.
As you can see in the above screenshot, the page contains information related to your Microsoft account.
You'll be able to view and manage Microsoft 365 subscriptions, orders, rewards, payment details, linked devices, and more directly within the system settings in Windows 11. At the moment, this feature is available for a small set of testers and it will be released to more users in the coming weeks.
Improvements in Windows 11 Build 22489
Today's update also comes with some improvements for Windows 11's new DNS over HTTPS (DOH) functionality.
Microsoft is now taking the feature to the next level by adding support for "Discovery of Designated Resolvers", which basically allows the operating system to communicate and discover encrypted DNS configs from a DNS resolver.
As part of the Windows 11 refresh, Microsoft is also rebranding Connect app and it will be now known as "Wireless Display". It would remain a feature-on-demand (FOD) and users can turn it on by going to Settings > Apps > Optional features, and then they need to select the "Add an optional feature" option.
The settings app is getting some improvements as well. Microsoft is splitting up "Apps & Features" into two pages – Installed Apps and Advanced app settings. The former allows users to simply view and manage installed apps, while later allows users to change the app settings.
Windows 11 Build 22489 also comes with these improvements:
Microsoft has fixed a bug that prevented icons on secondary monitors or resulted in a black screen.
Microsoft has fixed explorer.exe (File Explorer, taskbar) crashes when using the desktop flyout context menu.
File Explorer's Pin to Quick Access has been converted to a top-level option.
Microsoft is improving the performance of the buggy context menu.
Microsoft has made a few fixes to improve explorer.exe reliability.
Task View should now be snappier.
Microsoft has addressed settings apps crashes.
How to install Windows 11 Build 22489
To install Windows 11 Build 22489, use these steps:
Join the Dev Channel of the Insider program.
Check for updates.
The build will begin downloading or you can click on "Install/download" now.
Click on restart now to finish the installation.
Known issues in Windows 11 Build 22489
Microsoft is investigating reports of the reduced screen and sleep timeouts.
You won't be able to rename some items on the desktop, but rename feature would work when you do it via File Explorer.
The search panel may not appear after clicking the Search icon on the Taskbar, but this can be fixed by restarting the "Windows Explorer" process.
Source: windowslatest