In Windows 11 preview builds, Microsoft is testing a redesigned version of Microsoft Teams called Microsoft Teams 2.0 for its desktop platform.
Unlike the current desktop client, Microsoft Teams 2.0 is based on Edge WebView2 and it uses Chromium rendering engine along with web technologies such as HTML, CSS and JavaScript. For Teams 2.0, Microsoft has dropped the Angular and Electron framework. Instead, it will now use the front-end JavaScript library React.js which is also open-source.
As part of the Teams 2.0 update, Microsoft appears to be testing a new messaging feature called "quoted replies". This will allow you to respond to specific messages or quote your own message in the response. Quoted reply feature is available on all social media platforms except Teams desktop, and it can improve the overall messaging experience.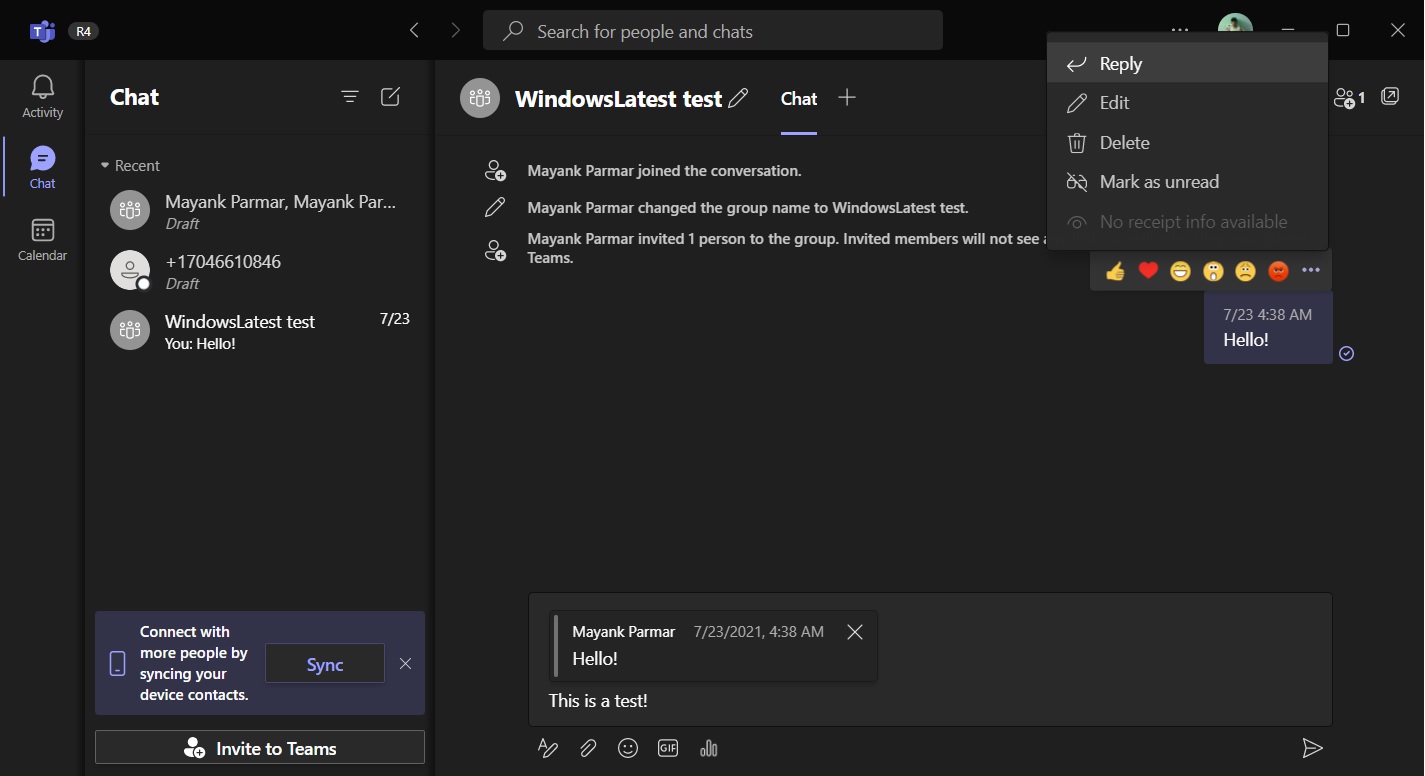 As you can see in the above screenshot, the option shows up when you right-click on any message. You can also hover over it and click the three dots to access the "Reply" option. It works for all messages including those sent by you.
The quoted reply feature is nothing new in the messaging or collaboration tools, but the feature has been missing from the Teams desktop client. In a roadmap update, Microsoft previously confirmed that quoted replies will come to the existing Electron client, but this feature is nowhere to be seen yet.
Other improvements with Microsoft Teams 2.0
Microsoft Teams 2.0 was also updated with advanced features and general improvements last week.
After the update, it is now possible to start calls directly from the taskbar. The one-to-one and group audio and video calling feature is powered entirely by Microsoft Edge WebView, and Microsoft has promised more features will be added in the coming updates. For now, users can start or join conversations, create and join meetings.
Users can also toggle their microphone and camera on or off, and manage the meeting settings like preferred speakers, mic, and camera. Similarly, Microsoft Teams 2.0 has also been updated with support for screen sharing, roaster menu for participants, ability to admit meeting participants, gallery view, and more.
These features were missing in the initial preview, but they're now enabled in Build 22000.132. Microsoft Teams 2.0 can be updated automatically via the server and Microsoft Store on Windows 11/10.
Teams 2.0 is currently exclusive to personal accounts.
Source: windowslatest