Up until today, Windows 11's Microsoft Store has been in the "preview" or beta stage of development. Ahead of Windows 11's general availability, Microsoft Store has left beta and the first stable build is now available to all on the Windows Insider program.
With Windows 11, Microsoft is reinvigorating its app store app with a new design and policy changes that would make the platform more appealing for everyone. Windows 10's Store is far from being the centralized marketplace for Windows apps and Microsoft apparently wants to change that with the new Store.
The Microsoft Store comes with a new design that falls in line with the UI changes arriving with Windows 11 upgrade. For instance, the Store no longer uses WebView and it has been updated with native XAML components, so you can expect better performance and improved support for touchscreens.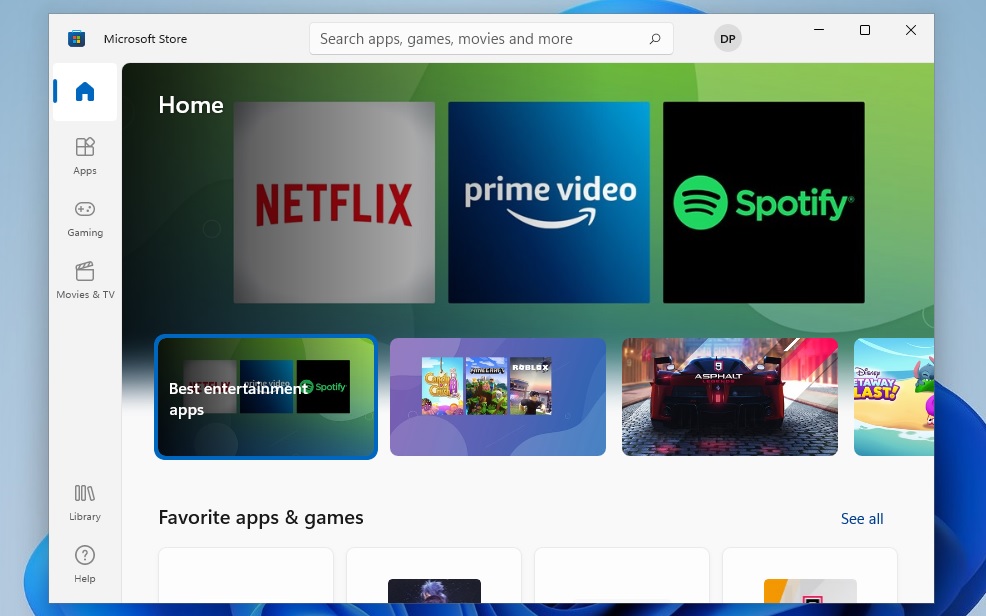 Windows 11's Store also offers new developer policies and it is now open to all third-party stores. For example, developers can now submit unpacked desktop apps (Win32) to the marketplace, which means MSI packages are now supported and developers can easily distribute their apps via the store.
Additionally, Windows apps built-in update systems no longer need to use Microsoft's update system if they're published in the Microsoft Store. As a result, companies like Discord, Amazon, and Epic Games are bringing their apps or even app stores to Windows 11.
Companies like Epic Games and Amazon will be able to bypass Microsoft's commerce platform and use their own revenue streams.
Third-party stores coming to Windows 11's store
Microsoft has also confirmed that its new app store will allow third-party stores like Amazon and third-party browsers like Opera with their own engines. Epic Games and Amazon app store will be listed within the Microsoft Store
Epic Games' store and Amazon Store will be listed within the Microsoft Store and users will be required to create accounts for Epic and Amazon before they can download apps or games from the Epic/Amazon stores.
Epic Games integration could bring Fortnite installer to the Microsoft Store. On the other hand, Amazon Appstore will be used to support Windows 11's Android subsystem and provide access to Android apps, which will run natively using the subsystem and Microsoft's container technology on Windows 11.
For third party browsers, Microsoft officials said Windows 11 store will support Chromium and Mozilla's Gecko engine, so you can expect browsers like Opera, Firefox, and even Chrome in the Store.
Thanks to a renewed focus on developers and making the store open to everyone, apps like Zoom, Discord, VLC and OBS Studio are already available on the store. For web apps, Microsoft has developed a new pop-up store feature to help users download web apps without visiting the store.
Windows 11 is set to launch on October 5 and it's encouraging to developers positive approach towards the new store.
Source: windowslatest