Usually unveiled later on in Intel's chipset product cycles, EVGA has announced that it will be bringing two Z690 models to market sometime in the near future. The first of these is the EVGA Z690 Dark K|NGP|N edition, which is primarily geared towards extreme overclocking, just as previous versions have been. Unlike the Z590 Dark we reviewed, the Z690 model has been endorsed by legendary overclocker and in-house technician Vince Lucido.
Although we don't have a full list of specifications at this time, we know it will feature a black design with a contrast of glossy and matte throughout. Along the top of a transposed LGA1700 socket is a pair of DDR5 memory slots. The socket design is intended to make mounting of LN2 pots for users looking at using sub-zero cooling methods easier. This also includes a variety of right-angled power connectors, as well as an overclocker's toolkit located along the top edge of the board.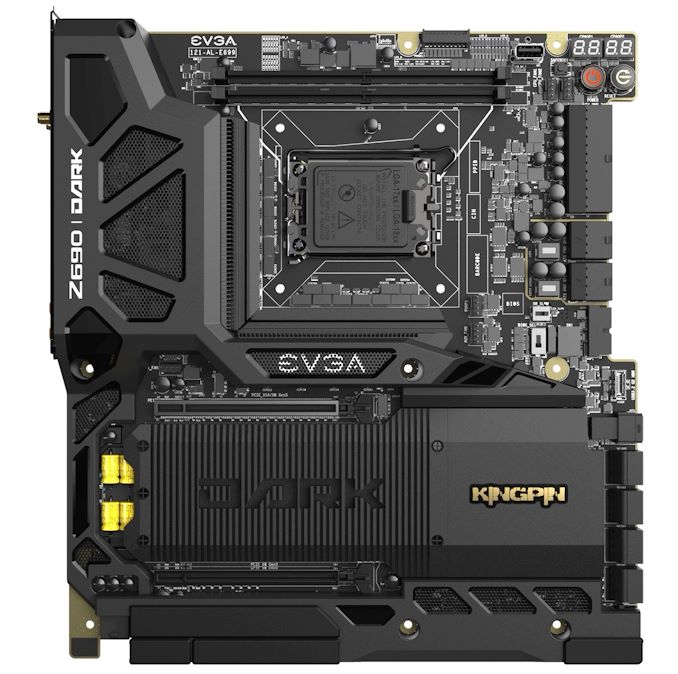 Other features include at least one PCIe 5.0 x16 slot, with the second full-length slot likely to be either PCIe 4.0 x4 or PCIe 3.0 x4 due to the level of shielding on the PCIe slot. EVGA said it will include dual 2.5 GbE ports, eight SATA ports, a Wi-Fi 6E CNVi, as well an 8- channel HD audio codec. It also looks like there is one U.2 storage port on the right-hand side of the board, but EVGA did specify that the actual heatsinks and motherboard may change before it launches.
Once we receive more details from EVGA, we will update this page.
Source: anandtech