Volvo's forthcoming baby electric SUV is likely to be built in China, the company's boss has revealed – but it now seems unlikely to be called XC20.
The Swedish brand's CEO Hakan Samuelsson has already confirmed that the new model will feature an SUV body style and be based on a pure-electric platform developed by Volvo's owner, Chinese conglomerate Geely. Volvo itself has already teased the new car, including it in a model line-up shown at a presentation earlier this year, and it's expected to play a major role in the company's ambition to increase it sales from around 800,000 units per year to 1.2 million by 2025.
Speaking at Volvo's half-year financial results presentation, Samuelsson said that the baby SUV EV would follow the next generation of XC90, which itself will be all electric. "Regarding timing, we've said the next new electric car is really the successor of our SUV flagship," he said. "That's the first one; after that there will be a smaller SUV, and that's what we're talking about here. It's very likely it will be made in China, yes.
"There will be more cars to follow, and I think we should start thinking about new body shapes," he added. "It's not just sedans, wagons and SUVs. Electrification will also change the shape of the cars; they need to be more aerodynamic, so maybe we will surprise people a bit there in the future. It's not just the conventional cars as we have had so far."
Volvo has trademarked both XC10 and XC20, so it had seemed likely to use one of these badges for the new model. However, Samuelsson confirmed recent speculation that starting with the successor to the current XC90, the company is going to switch its nomenclature to proper names instead of 'codenames'. "If you look at cars today, they all have XC, T8, AWD, double-overhead-cam – their full specification on the rear of many cars," Samuelsson said. "Now we're talking about a new architecture – born electric, all electric. I think it's good and clear to mark that this is a new beginning.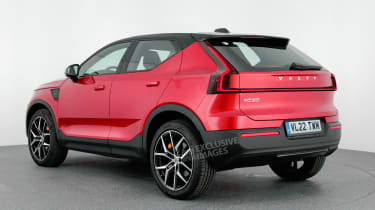 "That's why we're not going to have numbers and letters – an engineering type of name. We're going to give cars a name as you give a newborn child. We have a very interesting and creative discussion going on about this now."
Volvo's growth has been hampered a little in recent years by production capacity but the firm's Chief Financial Officer Bjorn Annwall said that the scale is already there to support the growth to 1.2 million units per year. "More or less we have the capacity to grow to 1.2m," he said. "We need to make small investments in underbodies when we change to BEVs but those are minor; the basic infrastructure is there. That said, we're not planning to stop growing mid-decade and in order to grow beyond 1.2 million we'd need to add factory capacity. We're probably going to need another factory somewhere in Europe in that timeframe."
Source: https://www.autoexpress.co.uk/volvo/106855/baby-electric-volvo-suv-likely-be-built-china